Faeces clearing installation
Project type: Profibus diagnostics
Customer: train company
Purpose: detecting system errors and wire breaks
For this project we designed a faeces clearing installation for emptying trains.
Up to 72 trains, spread over 6 tracks, are connected to the various suction stations. The cycle is started at the suction station. The trainsets are first emptied after which the faeces tanks are flushed.
This process consists of a high number of Profibus participants with a long mutual distance. To visualize wire breakage or errors in the Profibus network, a diagnostic overview was provided of the Profibus network.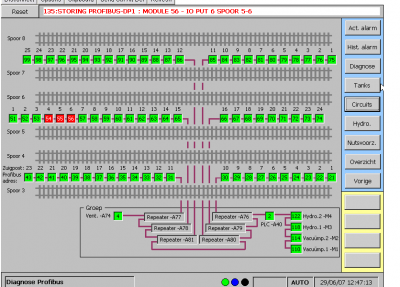 ABOUT BELOGIC
BeLogic is specialized in process automation and machine control for companies. Thanks to our long-standing experience and our flexible and fast service you can count on us.